Our Values
Spiritualism

Respect Mother Earth and her gifts. As you love and care for her, so will she give back.

Service

Share the Earth's gifts with her people. Heal your body the safe way, the way nature intended.

Activism

Be free to live the life you choose to live. Be free to choose nature's medicine to heal your body.
Our Fellowship Program
For exclusive images, video footage, and a free download of our belief system,
join our fellowship program.
Explore
The Sisters
We are the activist Sisters of The Valley, and we are on a mission to heal the world through plant-based medicine.
Like our Beguine ancestors, we are scholars who work together, pray together, and are dressed to identify our enclave.
Nestled in the impoverished but agriculturally rich Central Valley, our order makes honorable jobs to support our community through organic health products.
All products are hand-made by women; saged to the moon cycles, set on the new moon, and bottled under the full moon.
Our medicine-making is guided by ancient tradition, with care and respect for the Earth's plants.
Our Mission
The mission of the Sisterhood is to get the most amount of plant-based medicine to the most amount of people around the world, while doing it in a manner that is aligned with our values of compassionate activism, spirituality and service.
Our Vision
To bridge the gap between Mother Earth and her suffering people, and open up the world to the healing powers of nature's gifts.
Heal Yourself Naturally And Safely With CBD
Organic healing products infused with safe, non-psychoactive, and non-addictive cannabidiol.

Shop CBD Now
Sister Sophia

ister Sophia grew up in a small village nestled on the west coast of South Africa bordering Namibia. At the age of 12 she legally immigrated to the United States and settled with her parents in Michigan. Transition to life in America was difficult for her and the culture of manicured women and men was not what she was used to. A simple lifestyle on a farm with little belongings was what she preferred. She anchored in with the American culture and through some inner focus and lots of work, she eventually adopted this culture as her own. She did that while holding on to the dream that she would one day be back in a small village and living a simple life.

Sister Sophia has her MBA from the University of Michigan and has extensive business experience. In January of 2017 she began to hear her calling and in May of 2018 took her vows at the Merced farm.

Today, Sister Sophia, in addition to holding down a full-time job outside the enclave, manages the operations on the Mother-farm and the growing wholesale department.


Sister Kate

After a devastating divorce, Sister Kate was unable to remain in her career as a consultant, because it required so much travel. Along with her brother, they turned to California's newest deregulating market, the agriculture and service of cannabis for patients in need.

In the Fall of 2009, she founded a non-profit cannabis collective and opened for business in 2010. She served cannabidiol medicine to local terminal patients, and while she was doing that, developed teas and tinctures so patients could experience the healing effects without needing to smoke it.

After three years of service, Sister Kate saw the need to share this safe, non-addictive and non-psychoactive formulation of the medicine with more people who needed it. And thus, alongside her goals to help more women and patients, the Sisters of The Valley was born. During the Harvest Moon of 2014, Sister Kate developed their first line of products.

Sister Maria

Sister Maria is a second generation NZ Chinese descendant, she was born and grew up in a large family of six in urban New Zealand. Sister Maria' grandparents emigrated from Canton in the early 1900s and moved to NZ to start a new life after the British took Hong Kong.

Sister Maria worked full time as a fashion model and beauty queen in NZ in her former years before deciding to move to London to follow her dream of being an event producer. In London she worked for Robert Dodds on the PepsiCo Intl account before the company merged with 19 Management to form XIX Entertainment creating and producing shows like IDOL and Britain's got Talent in the early 2000s.

Maria then moved back to NZ in 2001 to start a family and settle down where she spent the next 20 years doing just that. In 2017 Sister Maria found the Sisterhood in California, after visiting the Mother Ship, she started the NZ Chapter of SOTV, while cannabis regulations were being put in place during the cannabis referendum, this unfortunately failed which kept cannabis illegal under the misuse of drugs act. In 2022, once her children were grown, she moved to California to work with her Sisters taking on the role as Farm Operations Manager.

Sister Kass

Sister Kass is the first of the millennials to join the mission. Born and raised in Merced County, she studied at Brookline College and received her diploma in Medical Insurance Billing and Coding. She took her vows at the age of 24, and though there are now other sisters who are to take their vows at the same age,

Sister Kass did it when she was the lone youngster among a group of crones.
Sister Kass has been with the Sisterhood the longest. And though she may be the youngest Sister by age, she is the eldest Sister by experience. Before joining the Sisterhood, Sister Kass was already growing and making cannabis medicines with Brother Rudy.

Today, she uses these experiences to manage and oversee all of customer service and shipping, working closely with the women who make the medicines. Sister Kass has two lovely daughters at her side, and they are as comfortable in the abbey as they are in their own home.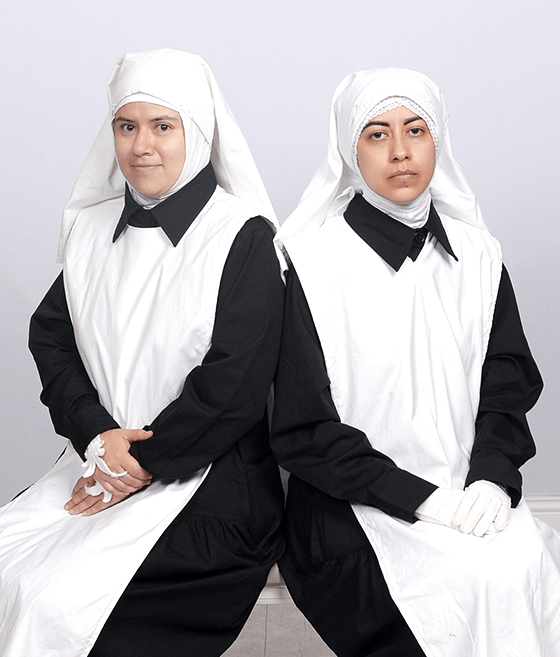 SISTER LUNA

Sister Luna is one of two of our first sisters of Mexico and the co-founder of Sisters of the Valley Mexico. She was born and raised in Puebla. In 2018 she moved to Ensenada to start and operate a small online store, while studying for her masters.

She has a BA in Biology and a Masters in Biomedicine. Her research has focused on cancer and the development of cancer vaccines. Luna has worked in hospitals with transplant patients. She worked for several years developing environmental, social, and urban impact studies for the private sector. Her research goal right now is to be able to focus on treatments with Cannabis, and the whole of all cannabinoids found in the pant. As a woman of science. she recognizes the limitations within the field of science as there are still too many stigmas and stereotypes against the hemp plant. The lack of research and scientific recognition of Cannabis is something that has motivated her to be a spokesperson and activist who defends the properties and medicinal use.


SISTER CAMILLA

Sister Camilla is one of two of our first sisters of Mexico and the co-founder of Sisters of the Valley Mexico. She was born in Puebla. She has an associate's degree on Business Administration, a BA in International Business and a master's in economics. Her research has focused on knowledge transfer from research centers to industry and university entrepreneurship. She has collaborated developing urban and social impact studies. For the sisterhood she does business consulting, import / export, business administration, logistics and planning. Her academic background and experience are tools she uses to be a cannabis activist and advocate for the plant. She hopes to focus her research and work on the recognition, uses and properties of the plant in Mexican society and the whole of the Spanish-speaking world.
Choosing a selection results in a full page refresh.