Super 17 Mushroom Coffee Individual Packets (20 servings)
Regular price
Sale price
$28.50
Unit price
per
Sale
Sold out
20 packets of single-serve mushroom coffee
What are subscriptions and how to manage them?
Ingredients

Organic cocoa, organic black tea, organic reishi, organic lion's mane, organic cordyceps, turkey tail, organic chaga, shitake, organic ashwagandha, organic turmeric, Himalayan salt, organic ginger root, cardamom, organic cinnamon, organic nutmeg, organic cloves, organic black pepper.
Dosage

Each serving size is 1 TBS or 6 grams of powder. 20 servings per box.
Shipping

The Sisters' products ship worldwide.
Share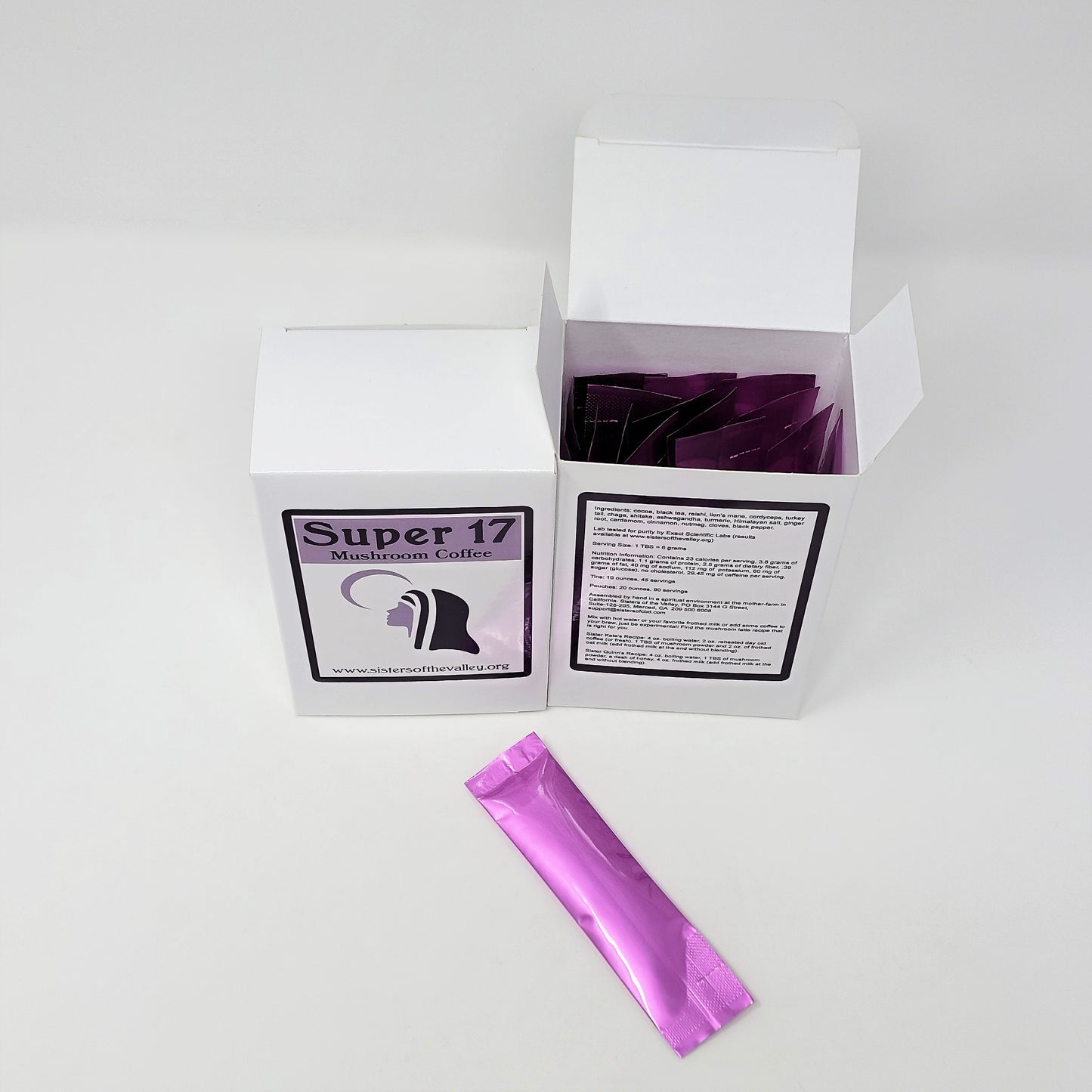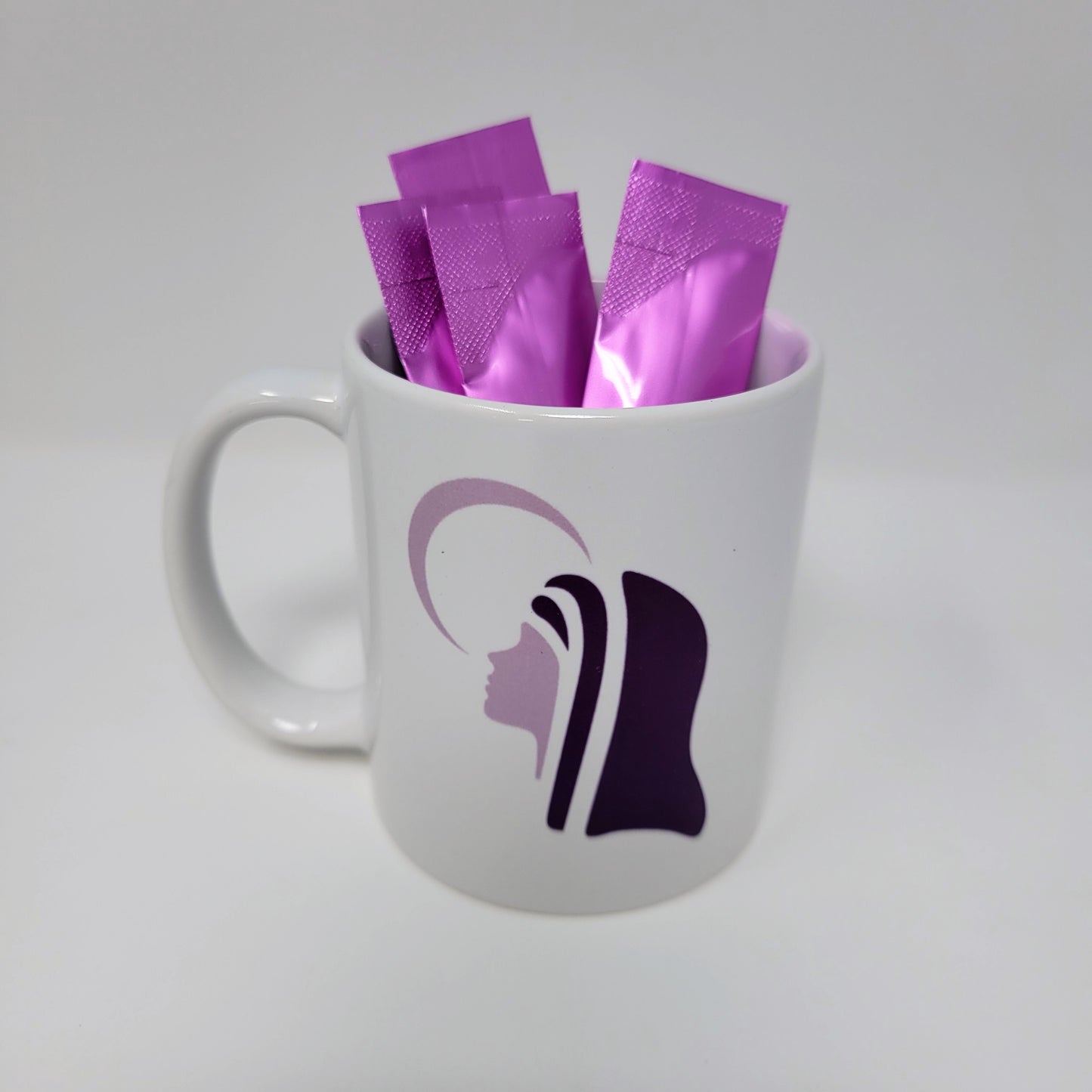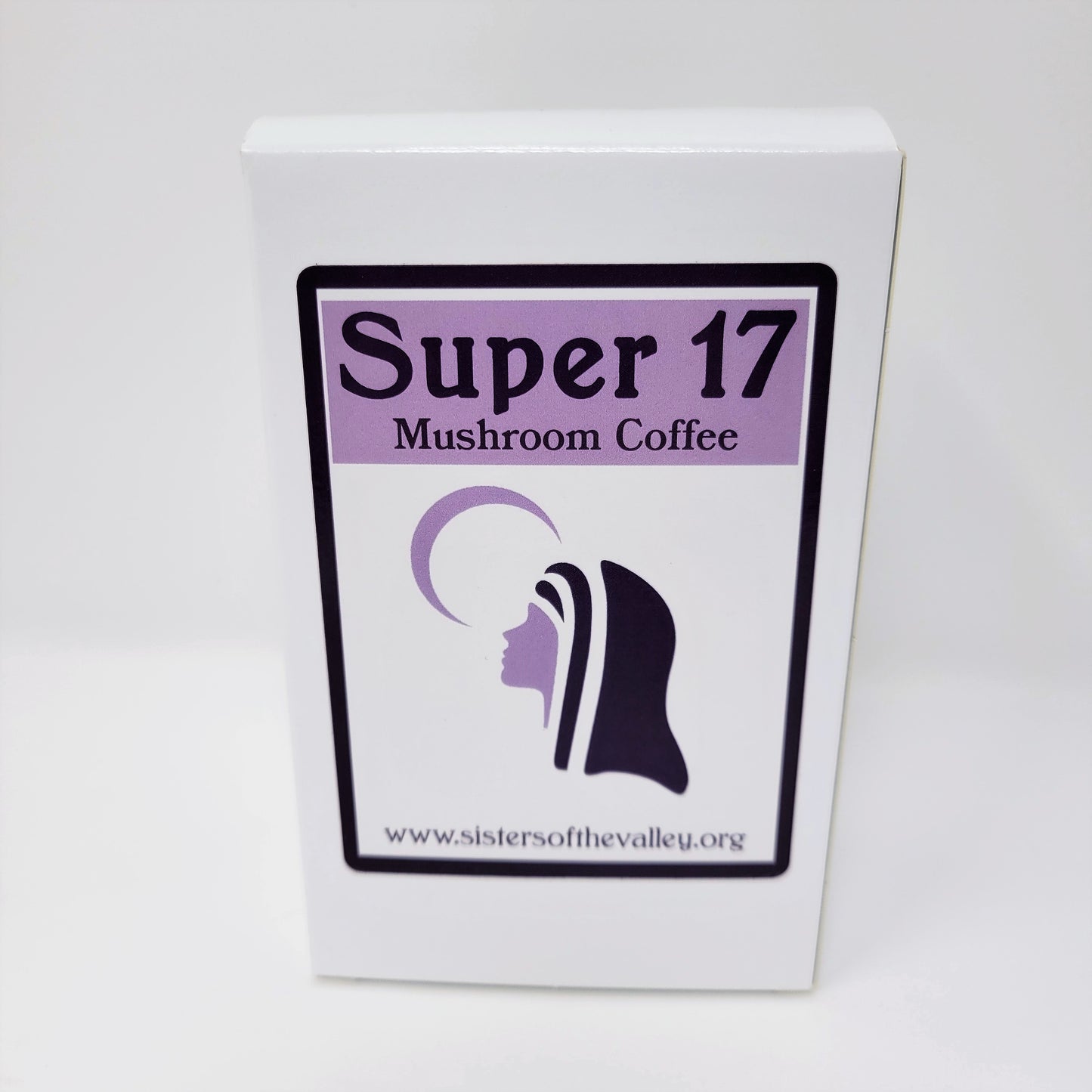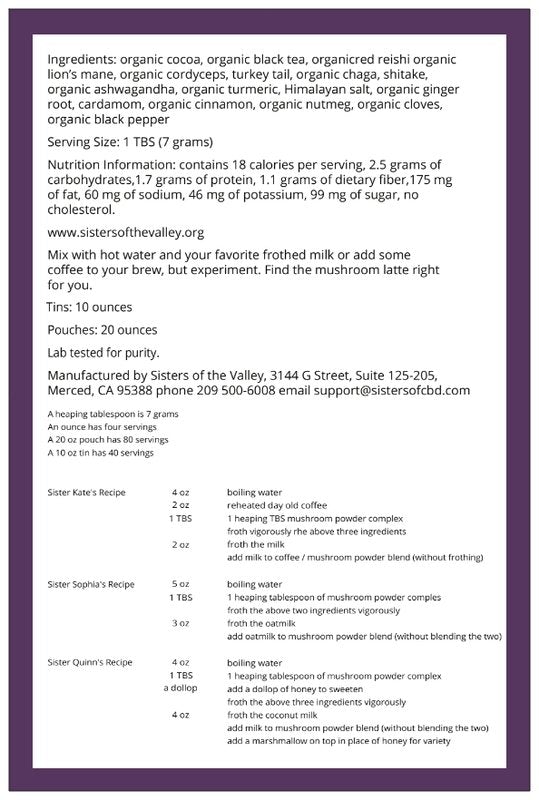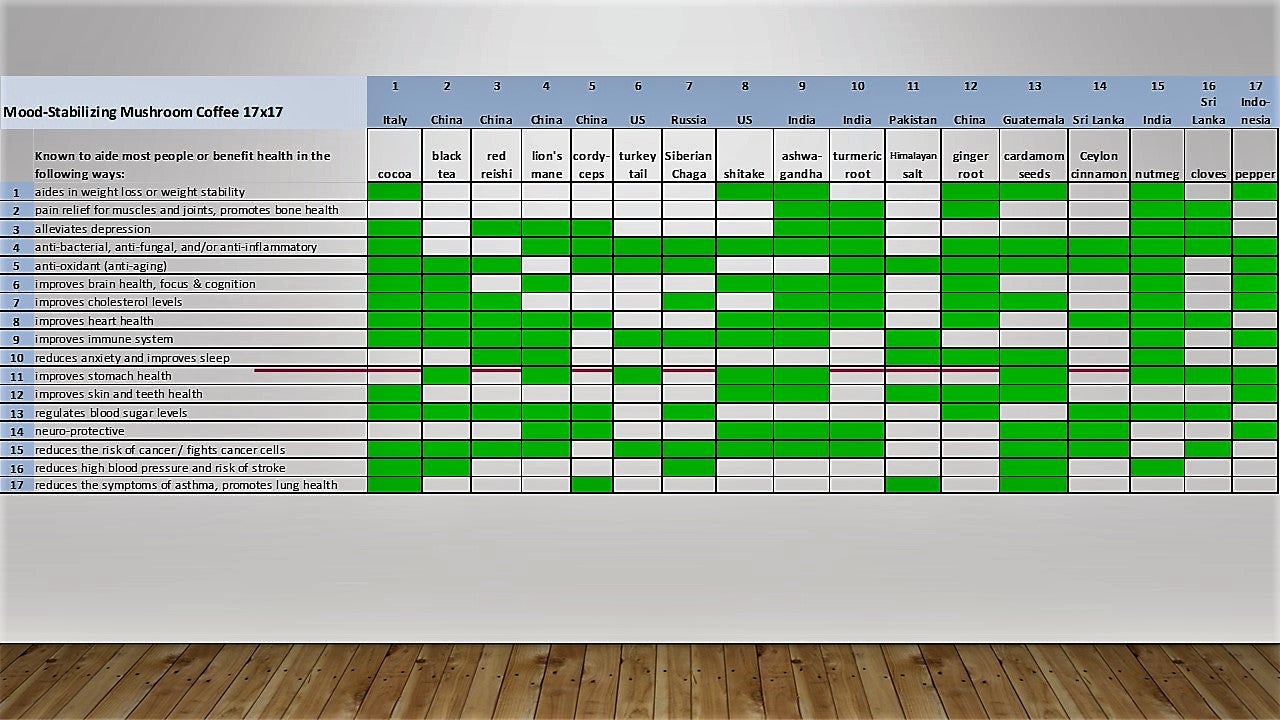 Combining mother nature's best ingredients for a more healthful, helpful, morning brew.
This package contains:
20 individual packets with ~6 grams per serving.
Organic Ingredients:
dutch cold-pressed cocoa, black tea, reishi, lion's mane, cordyceps, turkey tail, chaga, shitake, ashwagandha, turmeric, Himalayan salt, ginger root, cardamom, cinnamon, nutmeg, cloves, black pepper.
Nutrition Information:
Contains 23 calories per serving, 3.8 grams of carbohydrates, 1.1 grams of protein, 2.5 grams of dietary fiber, .39 grams of fat, 40 mg of sodium, 112 mg of potassium, 60 mg of sugar (glucose), no cholesterol, 29 mg of caffeine per serving. 
Volume and serving size:
Each serving size is 1 TBS or 6 grams of powder.  20 servings per box.
Nutritional Facts:
Download Mushroom Coffee Potency, Purity and Nutritional Content.

How the  Sisters of The Valley products are made
The Sisters of the Valley make all their products by moon cycles, to honor our ancient mothers. They are prepared in a spiritual environment, with prayers for the people sewn into every bottle and jar.
Product formulation
This recipe for mushroom coffee was developed by the Sisters to include all the ingredients that work toward mood stabilization.  By including mushrooms, roots, and spices, the combination of ingredients work together to make a tasty coffee alternative, while giving the body needed nutrients that one wouldn't get from the coffee bean.  Like all our products, the mushroom coffee blend is made by the cycles of the moon.
Is this safe?
The amount of caffeine is less than 10 mg per serving and it is a safe and effective hot drink. However, if you quit eating and sleeping and drank only mushroom coffee, it wouldn't be safe. Engage your brain. If it makes you sick, you must take less, adjust your serving size, or stop taking it. Functional mushrooms are a relatively unexplored region of nutrition. We don't know if some people might have allergies to some of the ingredients, so if you do have an adverse reaction, take less, or stop taking it. Be sensible.
Most people quickly find that mushroom coffee is a superior supplement or replacement to coffee bean coffee. If you make it too strong, it's going to be bitter. For best results, experiment! Find your own recipe or follow the suggested Sister recipe's provided on the label.
Warning
This product has not been evaluated by the FDA for safety or efficacy.  Keep out of the reach of children. 
Storage instructions
Treat it like it's your coffee. Store it where you store your coffee.  It has an anticipated shelf life of eighteen months if stored properly.
Shipping
The Sisters ship their products worldwide, with the exception of these restricted countries:  
China, Hong Kong SAR, India, Israel, Japan, Malaysia, Philippines, Russia, Singapore, United Arab Emirates, Iceland, Slovakia, Canada, Australia