Turkey Tail Mushroom Spore Kit (3 lbs.)
Regular price
Sale price
$32.99
Unit price
per
Sale
Sold out
Organic Mushroom Spore Kit
Shipping

The Sisters' products ship to all 50 states and worldwide.
Share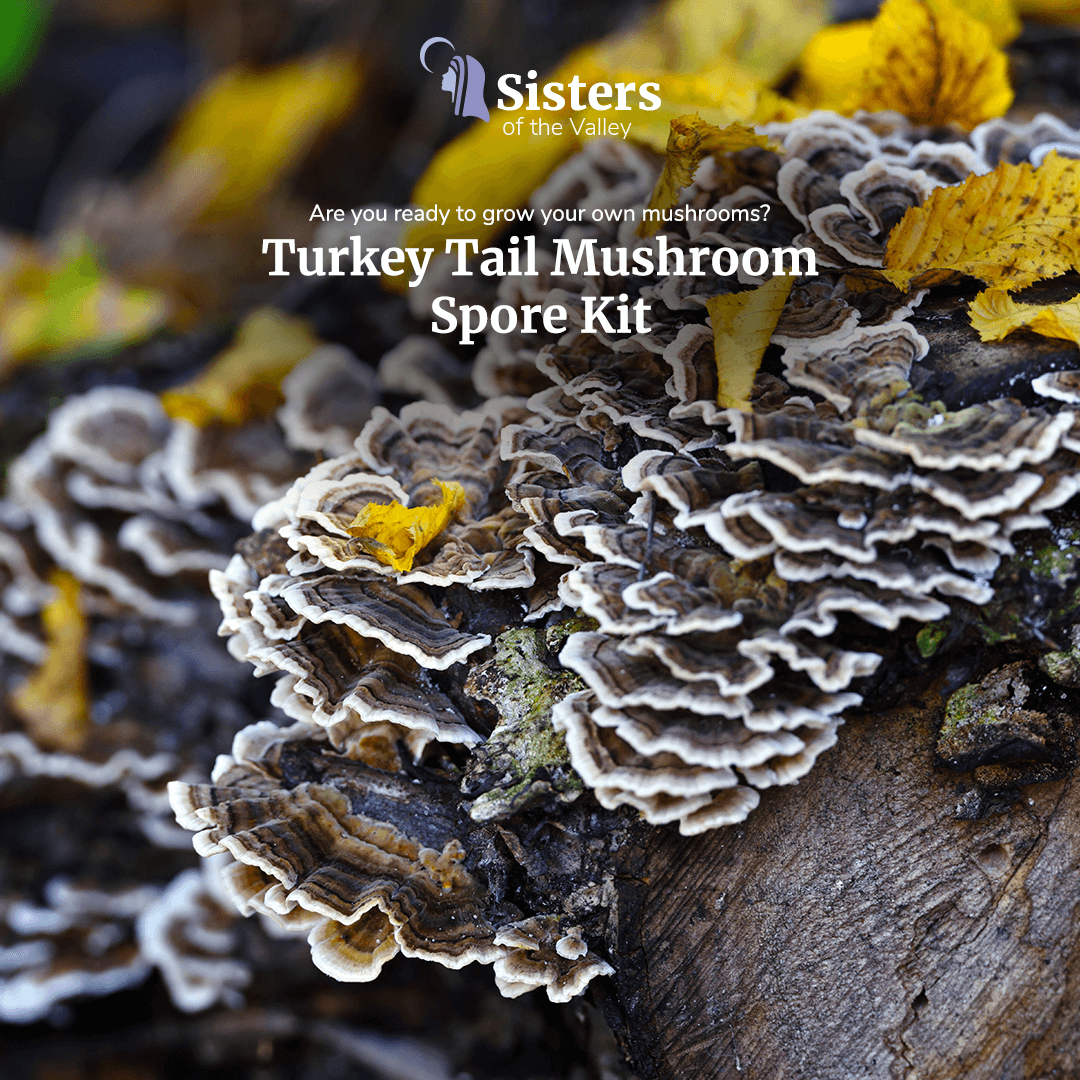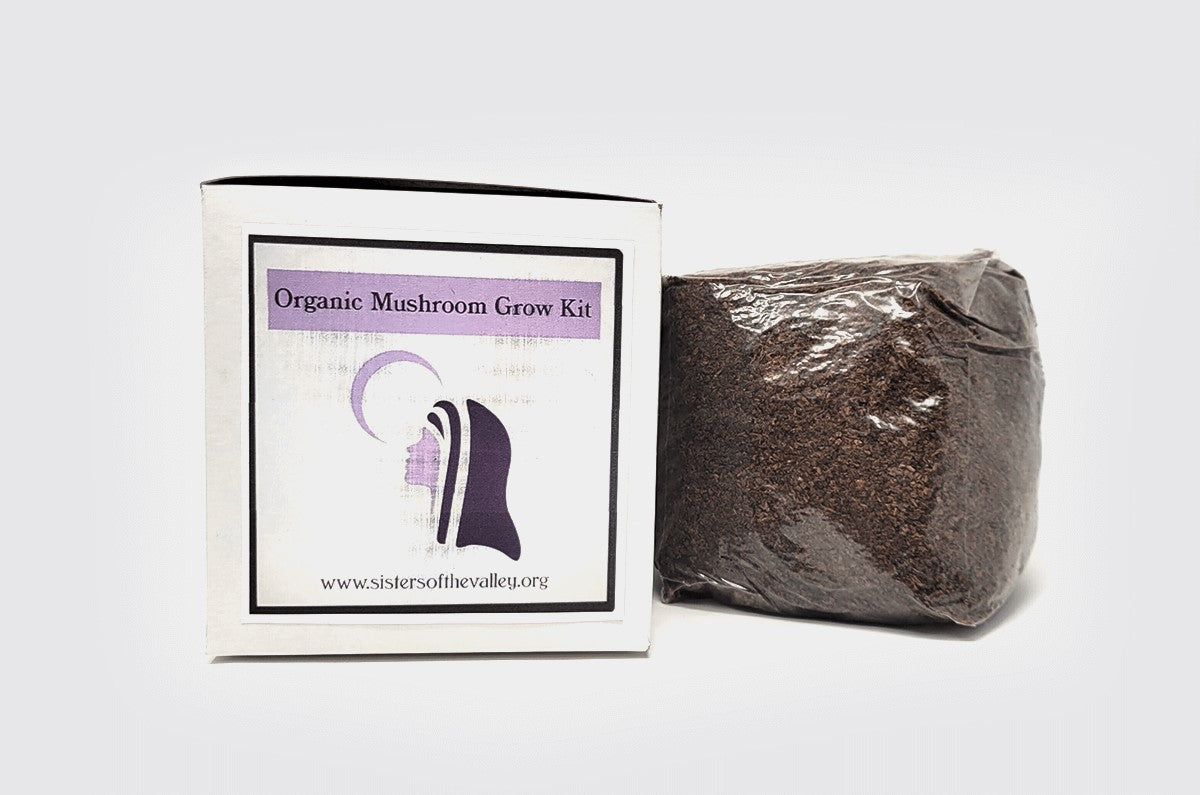 Product Name:  Turkey Tail Mushroom Spore Kit (3 lbs.)
Approximate yield in mushrooms:  0.5 to 1 ounce
Description
Organic Indoor Mushroom Grow Kit – Pre-Inoculated 3 lb. Bag
This mushroom grow kit in a box has everything one needs to grow their own 100% Organic and Non-GMO mushrooms. The Sisters have perfected a blend of grain and substrate that makes it easy and safe to grow your own indoor mushrooms.  These mushrooms can be and should be grown all year long.  The substrate that is the home to the sprouting mushrooms is 100% vegan.
All the strain options shown grow in a short cycle, two to three months. Enjoy watching your own mushrooms grow before your eyes and nothing tastes better than home-grown food -- and nothing works better for healing than home-grown medicine.  You have a chance to make history with us as we all take back our ancient rights to self-nourish and self-heal.
Volume
Each box comes with a 3-pound bag of inoculated substrate.  Since the customer chooses the strain and the Sisters inject the bags with spores right before shipment, remember that the kit is then on a timer and the customer has four weeks to open the bag and begin the fruiting process.  Allowing four or five days for shipment, the customer must immediately make sure the package is in a dark, temperature-controlled place.  Do not leave the package unattended where temperatures reach extremes.  Begin as soon as you receive your package.  Time your order so you can tend your spore kit as soon as it arrives.
Variations
The sisters off two strains of functional mushrooms:  lion's mane and turkey tail.  Both of these are non-psychotropic and can be eaten in large quantities safely, with no side effects except for the many health benefits they offer.
How the Sisters of The Valley Spore Kits are Made
The Sisters of the Valley built a mushroom lab that is insulated and dedicated to the mushroom spore kits and their own mushroom grow operations.  Plant cycles honor the cycles of the moon and the Sisters begin new crops around a new moon and harvest around a full moon (not the same month).  They follow the spiritual practices of their ancestral foremothers.
Product formulation
Each kit contains one three-pound bag of pre-inoculated substrate.  The strain used is indicated on a sticker on the bag and inside the lid of the box.  The sticker also contains the inoculation date.  The box must be opened, and the directions followed as soon as it is received. If it stays in the box and is not in a dark, temperature-controlled space, the active cultures inside the bag will die.
Is this safe?
The spore kits: The spore kits themselves should be kept away from children and pets as there are live cultures at work.  
The functional mushroom varieties are safe and healthy and have no psychotropic effect.
Note that we make a wide variety of mushroom spore kits and if they strain you are interested in is not listed, simply email support@sistersofcbd.com. 
Health Benefits of Functional Mushrooms

Lion's Mane is known for being an antioxidant, an anti-inflammatory, for reducing anxiety and depression, and it is definitely under study for helping people ward off or reverse symptoms of dementia.
Turkey Tail is also known to be an antioxidant and anti-inflammatory, but in addition, for boosting overall immunity and helping to reduce obesity.
Product guarantee
The only product guarantee we can offer (because of a lack of testing) is that the strains you order will be the strain you receive.  We can also guarantee that if you don't start the kit within three weeks of receipt, you will have a useless box of goo.
Customers are advised to time their orders appropriately or tell the Sisters in the notes when you purchase, if you want them to delay fulfillment for any reason.
We guarantee your kit will grow your mushrooms if you get started on time.  We are not
mycologists, however, and we don't provide teaching or training in this regard.  
If your product comes damaged for any reason, you can reach out to our support team at support@sistersofcbd.com
Shipping & delivery
The Sisters' products ship to all 50 states and worldwide.
How to Work the Spore Kit
Made fresh to order. Hydrated and fully sterilized, shipped same day. Arrives ready to use out of the box. There are different directions for growing functional mushrooms versus the psilocybin strains. The directions are included herein, but also come on the box with the product.
Skill level required: beginner
Grow location: indoors
Grow Speed: short grow cycle (20 to 40 days)
Shelf Life of Kit: 30 days from inoculation date
Dimensions of Kit: 9" x 9" x 5" (the shipping box is 9" x 9" x 7")
Weight of Kit: 3 lbs.
About the Substrate: Functional Mushrooms (Lion's Mane and Turkey Tail)
Contains 50% oakwood pellets and 50% soy hull (aka Master's Mix)
About the bag: This is the home of the mushroom crop, and it can be re-used, if more than one crop is grown. The bag is 99% contamination resistant, super-pasteurized with steam, sterilized at 250 degrees F for two hours at 15 PSI. The bag has a .3-micron filter patch.
Temperature Guide: recommended colonizing temperature 72 to 75 degrees F recommended fruiting temperature 65 to 70 degrees F
Storage instructions: Don't store it, start it! Ok, if you must store it for a short period, keep it in a cool, dry place. Do not refrigerate or freeze.
Output: Each box will grow 1/2 to 1 ounces of mushrooms and each box will grow a second crop; some will grow a third.
Consumption: Functional mushrooms have only healthy effects on the diet
Made and Shipped from California
Spore Kit Instructions
Instructions for Growing Lion's Mane and Turkey Tail
Step #1
Open shipping box and remove white box with instructions. Don't open the bag that comes inside the white box. You needn't do anything at all, really, until colonization is complete. Colonization began at inoculation. So just leave the bag in the box and get it to a dark cool place, where it will live for two to three weeks. The temperature for this colonization phase should be 72 to 75 degrees Fahrenheit.
Step #2
Wait 15 to 20 days until the liquid inside the bag (the substrate) has turned white and is a brick. When the bag looks like an all-white brick, the colonization is complete.
Step #3
remove the bag from the box and on the side of the bag opposite the injection port, make an x slit about 2 to 4" long with a sharp knife or razor blade, trying not to cut into the brick.
Step #4
Hydrate the brick. Set the brick with the slit side down in a bowl of water that might cover an inch or two of the brick, or more. Let it soak for 2 hours. The water is being absorbed through the bottom x slit you made.
Step #5
remove the brick from the water, turn it over so the slit side is up, and put it back in a dry spot near sunlight (leave the plastic in place)
Step #6
mist daily, at the opening where it will let water seep in. You will start to watch your mushrooms grow now.
Step #7
approximately two weeks from completion of colonization, you will be harvesting your mushrooms
Step #8
after harvest, repeat the process of rehydrating the brick in a bowl of water, the x-slit side down. Repeat the steps 5 thru 7, to get a second crop. Some people rehydrate again and get a third crop.
Special Check-Out Instructions for Functional Mushroom Strains
(lion's mane and turkey tail):
This is a custom order that is being inoculated as a result of the purchase and those live cultures must be properly tended upon receipt.
___ customer acknowledgment of some sort